HydroBike
All of the Features of a Regular Bicycle and the
Fun of Being on Water


Explorer I HydroBike is 2499.00 *
Explorer II HydroBike is 4799.00 *
Scroll Down the Page for Details , Available Options Pricing and Action Videos

* For Shipping Rates, Contact Us
Please include Model Desired and Ship To Location
MADE IN THE USA
HydroBikes are Manufactured in America
from Components Supplied by USA Companies.
If You Enjoy Bicycling, You Will Love the HydroBike. It has all of the features of a bike, yet allows you to glide over water.

The HydroBike is untippable. You can easily pedal 4-6 mph, with a top speed of 10 mph.
Original Hydrobike Company Video
---
---

See More Hydro bike Videos - Scroll to Bottom


HydroBikes come in Single or Dual Rider Models. Hand tool assembly:
One person can assemble and disassemble the HydroBike in minutes, without any tools.
All Hydrobikes include the Center Console and Pontoon Platforms.
SPECIFICATIONS
Length
Width
Weight
Draft
Capacity
Explorer I
Single Rider
10' 0"
55"
125 lbs
18"
400 lbs
Explorer II
Two Riders
10' 0"
97"
211 lbs
18"
600 lbs
HydroBike uses a standard bicycle mechanism chain drive with a 8.6:1 gear ratio. It drives a 12" propeller and steering is accomplished with a rudder connected directly to the bike's handlebars. The total height from the top of the handlebars to the bottom of the hull is 53". Structural parts are aluminum and rust resistant metals. Floats are made from polyethylene.
Propeller Automatically Pivots
Up and Over Obstacles

Built-in Storage Cargo Compartment.
There are even Two Cup Holders!
The HydroBike is so Stable,
It Can Be Used as a
Swimming or Sunbathing Platform. You Don't Even Have to Know
How to Ride A Bicycle, or
Worry About Tipping.
Just Add Water, and Pedal.

HydroBikes are Great Family Fun. Waterbike together, or go Solo. Steady and sturdy:
Stable enough to dive from, HydroBikes can also handle rough water conditions,
including five foot ocean swells.

Explorer II, shown with E-Z Carry Straps, a standard option included with all HydroBikes.
Shallow water is no problem: Ideal for narrow and shallow water, the HydroBike can operate
in eighteen inches of water. With the prop up, you can glide in less than a foot of water.
If the drive train and propeller encounter rocks or sand, it automatically pivots
up and over the obstacle. You can even pedal right up onto the beach
without damaging the propeller or rudder.

Explorer I, shown with E-Z Carry Straps.
High-performance propulsion system: The lower drive train is sealed water-tight,
providing protection even in salty seawater. The chain uses environmentally friendly lubricants.
Built-in storage compartment: Stow extra clothes, beverages, and cargo.
There are even two cup holders.
E-Z Carry straps are standard on HydroBike Explorers.
PRICES
| | |
| --- | --- |
| Explorer I HydroBike | 2499.00 * |
| Explorer II HydroBike | 4799.00 * |

* For Shipping Rates, Contact Us
Please include Model Desired and Ship To Location
Explorer I includes: Basic Hydrobike and Floats, Lower Decks (2), Console, Drive Train Lever Arm (raises & lowers Prop), Carrying Straps, Standard Seat, Chain Guard and Choice of Trim and Float Colors.
1 Year Warranty on complete HydroBike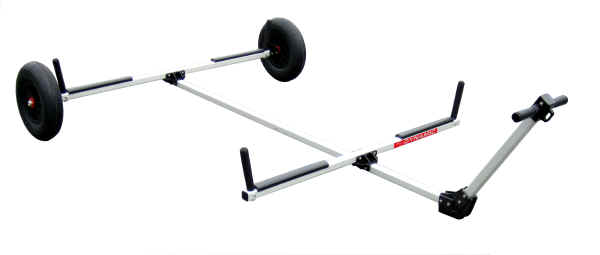 Launching Dolly for HydroBike Explorer 1 - Designed for Firm Ground - 16" x 4" Wheels
Optional Extra Equipment

EX-II-Kit
Converter kit to merge two Explorer I HydroBikes into an Explorer II
279.00
DD-10
Launching Dolly for HydroBike Explorer 1
598.00
F-CLR
Float Colors: Please Specify:
Hunter Green
Yellow
T-CLR
Trim Colors - Platforms & Console- Please Specify:
Hunter Green
Royal Blue
Violet Purple

Original Hydrobike Company Video
---
---
Hydrobike Trip Around A Lake Video
---
---
Hydrobikes Interview by Inside Fitness Video
---
---
| | |
| --- | --- |
| Yellow | Hunter Green |
Float Color Options
| | | |
| --- | --- | --- |
| Hunter Green | Royal Blue | Violet Purple |
Platforms & Console Trim Color Options

Using the EX-II-Kit allows Two Explorer I Single Rider Hydrobikes to easily convert
into an Explorer II Dual Rider Hydrobike. You can easily switch back and forth from
Single to Dual Rider HydroBikes in minutes, using no tools.