Multiple Canoe Trailers
Trailers for transporting multiple canoes
Designed for large numbers of canoes


CLP-16 Sixteen Canoe Trailer

Model CLP-16 Canoe Trailer Shown with 16 Canoes
(MichiCraft Canoes not included with trailer)
Galvanized Trailers
CLP-1600 - 16 Canoe Trailer is CALL+ Shipping
CLP-1000 - 10 Canoe Trailer is currently unavailable
Delivery is available throughout most of the USA - Contact us for Shipping & Handling costs. Galvanized Trailers require partial assembly by customer
Scroll Down the Page for
Blue Painted Trailers
*CLP-10 - 10 Canoe Trailer is currently unavailable
*CLP-16 - 16 Canoe Trailer is currently unavailable
*Special Order Lead time is 60 days for this trailer
Delivery is available throughout most of the USA - Contact us for Shipping & Handling costs. Blue Painter Trailers are delivered fully assembled.
Scroll Down the Page for
Optional Extra Equipment

SPARE13
Spare tire - 13"
199.00
CLP-10 Ten Canoe Trailer

Model CLP-10 Ten Canoe Trailer Shown with Canoes & Tubes
Optional Parking Jack shown (canoes & tubes not included)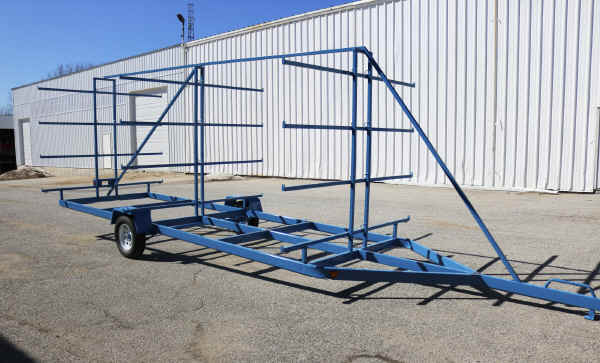 Model CLP-16 Sixteen Canoe Trailer

CLP Canoe Trailers are made from welded steel components. A double thick coat of blue paint protects the steel surfaces. High speed 13" wheels and tires and highway lighting system are standard.
Models
CLP-10
and
CLP 1000
CLP-16
and
CLP 1600
Standard Equipment
CLP-10 All Welded & Painted
CLP-1000 Welded & Bolted, Galvanized
CLP-16 All Welded & Painted
CLP-1600 Welded & Bolted, Galvanized
Capacity:
1000 lbs
10 Canoes

1600 lbs
16 Canoes

Federal Highway Regulation Lighting
Weight:
720 lbs
1200 lbs
Safety Cables
Length:
19'
30'
1-1/2" Steel Crossbars
Width
95"
95"
2"x 4" Steel Frame
Height
9'-6"
8'-8"
High Speed Demountable Wheels & Tires
Spacing
110"
110"
Tires:
13"
13"
Coupler:
2"
2"
Axles:
1
1
Brakes:
none
none
Cross Bar Details
Canoe Trailer Fixed Cross Bars are 110" apart . All Bars allow 40" space per side
There are two welded loops per bay for attaching Tie Down Strap hooks